VENDIG SOFTWARE SERVICES, INC
ONLINE WEB BASED REPORT WRITER CAPABILITIES
Features:
Phantom processor: the reports are run in the Phanton Processor sending emails to user. These emails can be any or all of: A link to the on-line view of the report, an excel attachment, a pdf attachment, a text attachment. This allows the user to run the report without having to wait for it to process. when the processing is complete the user will be informed by email. Reports can be scheduled to run immediately or at a certain day and/or time. Reports can be set up to be recurring.
When viewing the report on-line the user may elect to print it on a printer in the office.
When viewing the report the user may use a search feature
When viewing the report the user may toggle line numbers off and on
When viewing a report on line you can go directly to any page or when using the search feature, can go directly to the page that contains the string searched for
Each user may be restricted in terms of what files he may have access to
Recurring reports: Reports can be set up to run once or to automatically be rerun daily, weekly, monthly, yearly on a specific date, day or week, month, day or month, time.
Reports are saved so that a user can select a past report and then use it again as the basis for another report
The on-line reports are saved for a specified number of days. This is user specific but the default is 7 days so..when a person creates a report, he may view it online for 7 days. After that it is automatically purged.
The reports are not kept in the PICK spooler so they do not clutter up the PEQS file
In generating the report the 'detail-suppress" option is available and you may use "null" to specify that you want to select a report that does NOT have a piece of data (ie LIST INVENTORY WITH STATUS CODE NULL means LIST INVENTORY WITH NO STATUS CODE)\
initial setup:
The installation menu (im/13) has a new selection that allows you to specify for this user which files he may access. In any case where this is not filled out for a given user, then that user has access to all files.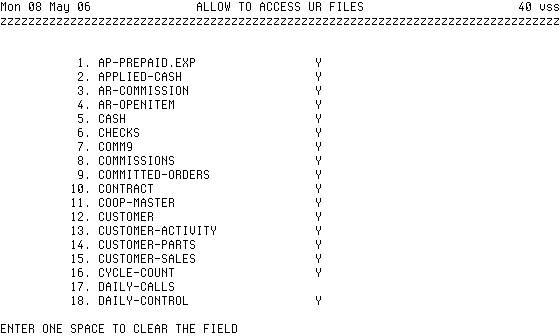 In using the online report writer, first, the user is required to logon with an id and password. After that a list of files (on the left hand side) are shown. In the center is a list of the reports that he has run in the past: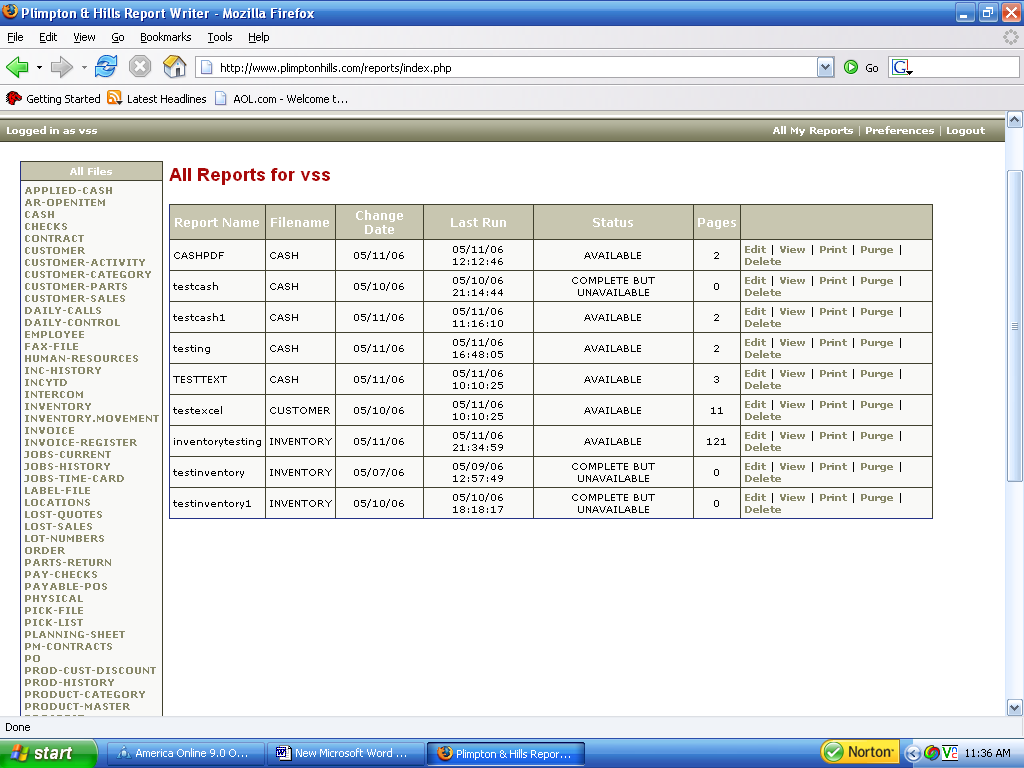 At this stage, a user can elect to view, edit, print, purge or delete one of his reports. To create a new report, he will select a file from the file list on the left hand side. This will cause the report writer to be displayed: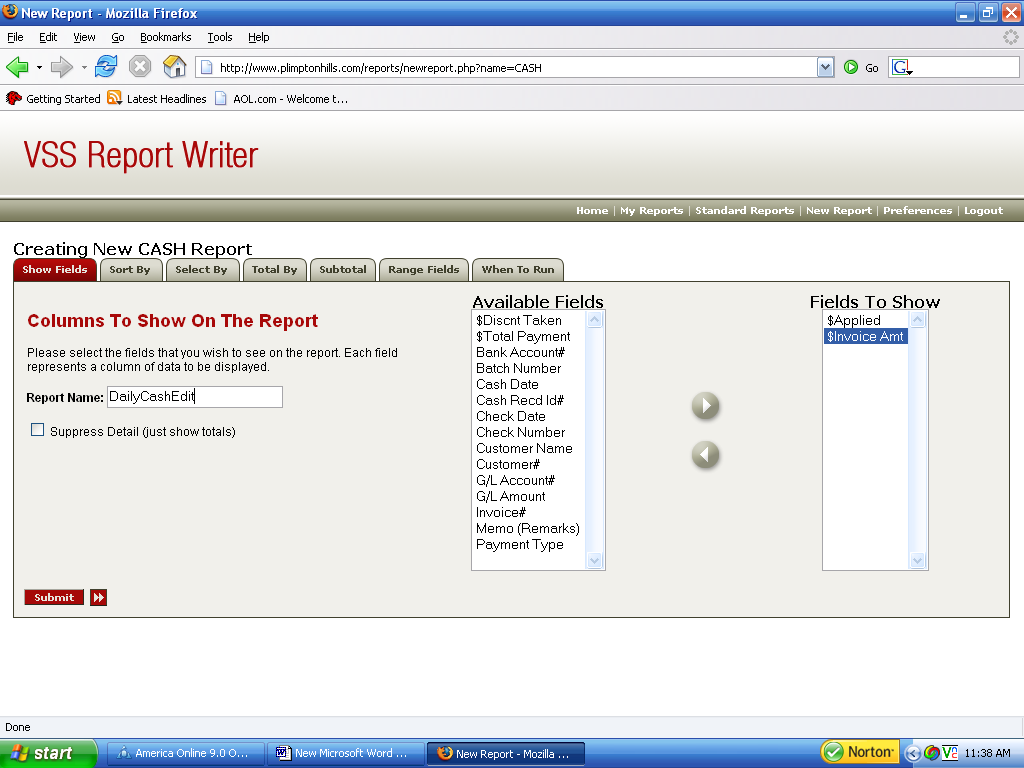 the user will name the report and then will select the fields to be displayed, the sorting sequence, fields to be totalled, etc.
next. he will schedule and submit the report:
He can elect to run this once (at any time of day), daily, weekly, monthly, yearly.
when the report has been generated, a link will be sent to the user, by email. He will click on that link and then be taken to this online report system where he can view the report online or print it.
vss*1096
Your online report is ready
click below to view
http://www.plimptonhills.com/reports/showreport.php?n=vss*1096


Attached is your WEB Report.
Attachment: vss*1096.xls

Additionally, he may elect to receive a text, pdf and/or excel version of this report which will also be sent to him by email.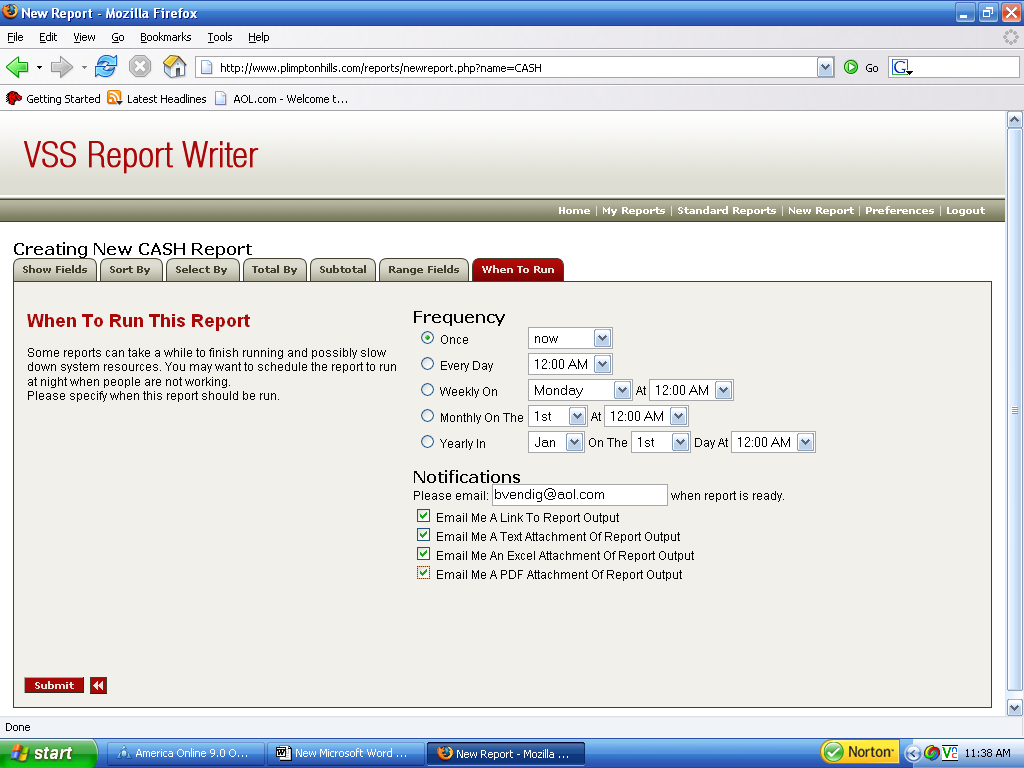 In viewing the report the user may use the search feature to go directly to a certain section of the report, he may use the page numbers to go directly to a certain page. he may toggle line numbers on and off