VSS CLIENT CONNECTION
January  2005
<![if !supportEmptyParas]> <![endif]>
<![if !supportEmptyParas]> <![endif]>
NEW PHONE#
Our new toll-free number is:  866-250-4273
Our old toll-free number will remain in affect until the end of the year (2004)
<![if !supportEmptyParas]> <![endif]>
NEW ENHANCMENTS:
<![if !supportEmptyParas]> <![endif]>
Enhancement to the User Reports (UR) that allows
Saving the "key strokes" that you enter in the UR screen

 

to create the report.

 

This option prompts the user to enter a report name and description to be associated with this report.
Displaying a list of

 

the user's saved reports along with their descriptions so that the user can select one ...at which time the UR screen will display with all of the selections already keyed in.

 

The user can then make the necessary changes and run the report.
Allowing or denying users access to specific files to use in the Report Writer.
<![if !supportEmptyParas]> <![endif]>
SAVING THE REPORT:
<![if !vml]>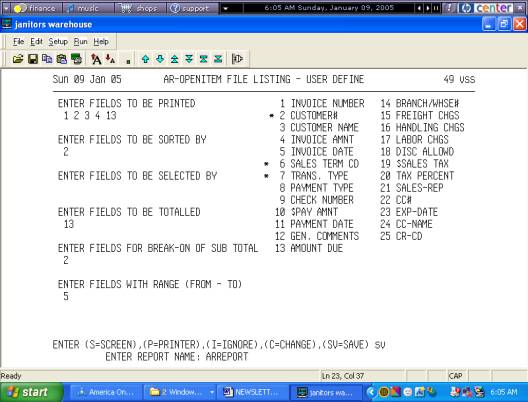 <![endif]>

<![if !supportEmptyParas]> <![endif]>
RECALLING A SAVED REPORT:
<![if !supportEmptyParas]> <![endif]>
<![if !vml]>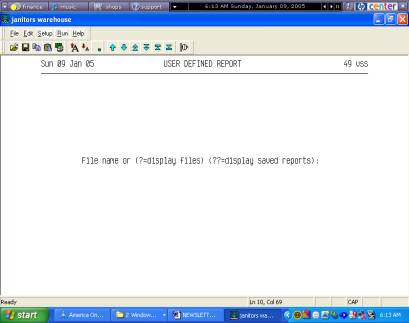 <![endif]>
<![if !supportEmptyParas]> <![endif]>
<![if !supportEmptyParas]> <![endif]>
<![if !supportEmptyParas]> <![endif]>
<![if !vml]>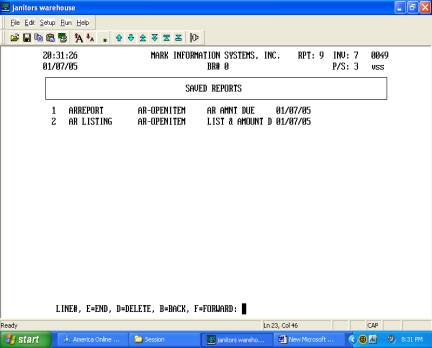 <![endif]>
<![if !vml]>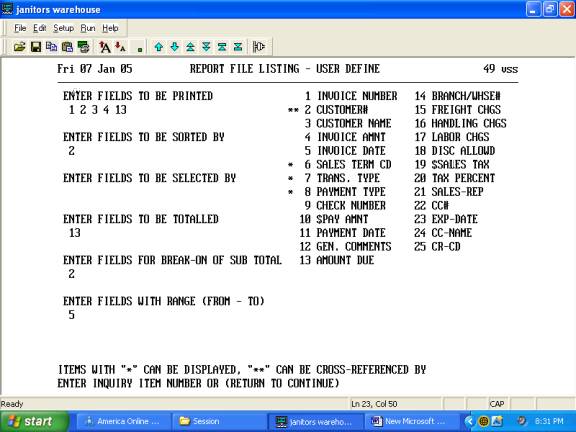 <![endif]>
LIMITING ACCESS TO FILES:
<![if !supportEmptyParas]> <![endif]>
In the installation menu (option 13 user permissions) a list of files is displayed and for each file the user can be "disallowed" access to the file by entering "N"
<![if !supportEmptyParas]> <![endif]>
<![if !supportEmptyParas]> <![endif]>
VSS
5517 CABRILLO WAY, ROCKLIN, CA  95765
866-250-4273
Betty Vendig: bvendig@aol.com     
<![if !supportEmptyParas]> <![endif]>
<![if !supportEmptyParas]> <![endif]>
<![if !supportEmptyParas]> <![endif]>
<![if !supportEmptyParas]> <![endif]>
<![if !supportEmptyParas]> <![endif]>