VENDIG SOFTWARE SERVICES, INC
E-COMMERCE SHOPPING CART:
FEATURES:
ABILITY TO SET UP AN UNLIMITED NUMBER OF DRILLDOWN PATHS SO THAT A CUSTOMER CAN FIND A PRODUCT EASILY WITHOUT LOOKING AT PAGE AFTER PAGE OF ITEMS.
ABILITY TO SETUP UP 3 LEVELS OF AUTHORITY ALLOWING DIFFERENT WEB USERS TO DO DIFFERENT TASKS: FOR EXAMPLE, ONE PERSON CAN ENTER AN ORDER, HOWEVER, THEY DON'T HAVE THE AUTHORITY TO APPROVE IT. IN THAT CASE, WHEN THEY ENTER AN ORDER IT GOES INTO "ORDER-APPROVAL". AN EMAIL IS SENT TO THEIR MANAGER WHO CAN THEN LOOK AT AND APPROVE THE ORDER.
SOME WEB-USERS CAN ONLY ORDER FOR THEIR OWN "SHIPTO"..OTHERS CAN ENTER AN ORDER FOR ANY CUSTOMER WITHIN THEIR "BILLTO". STILL OTHERS CAN ENTER ORDERS FOR ANY CUSTOMER IN THEIR "MASTER BILLTO".
ABILITY TO "SAVE A SHOPPING CART" FOR FUTURE USE. THIS ALLOWS THE CUSTOMER TO SELECT THE"SAVED SHOPPING CART" WHICH WILL THEN POPULATE THEIR CURRENT SHOPPING CART.
ABILITY TO DISPLAY A CLOSED/BILLED INVOICE AND THEN DUPLICATE IT INTO THE CURRENT SHOPPING CART
ABILITY TO LIMIT THE PRODUCTS THAT CERTAIN WEB-USERS CAN PURCHASE (CALLED A RESTRICTED LIST)
ABILITY FOR A WEB-USER TO WORK WITH MULTIPLE SHOPPING CARTS:
EXAMPLE OF DRILLDOWN FEATURE: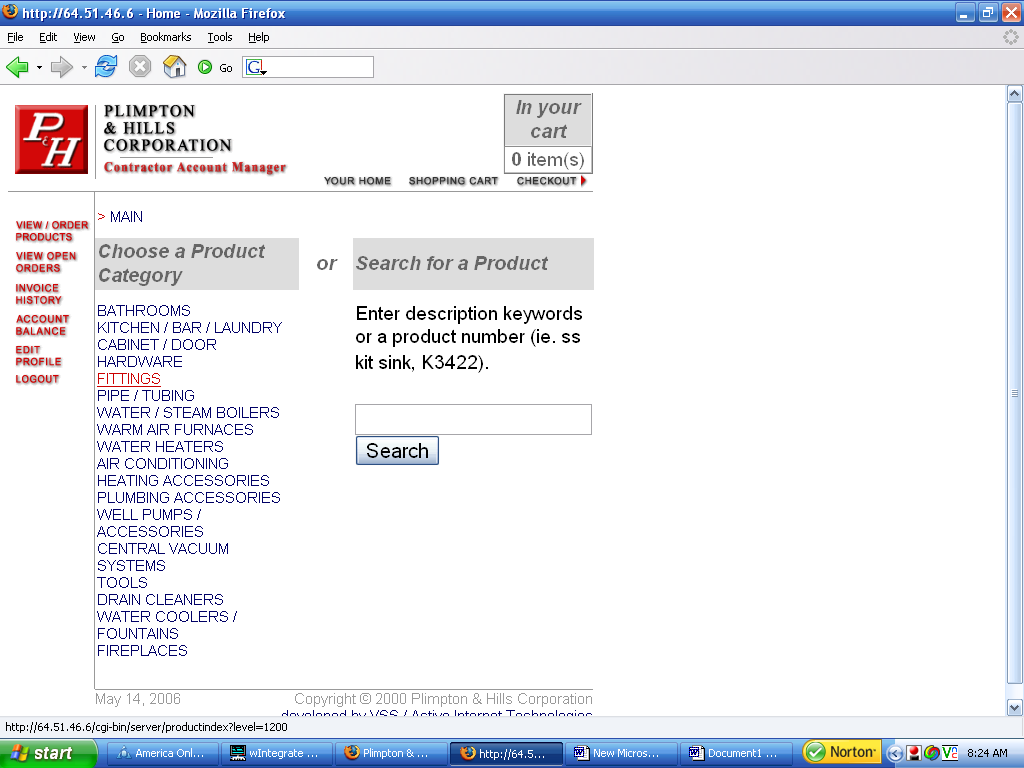 after the user selects fittings..a breakdown of fittings is displayed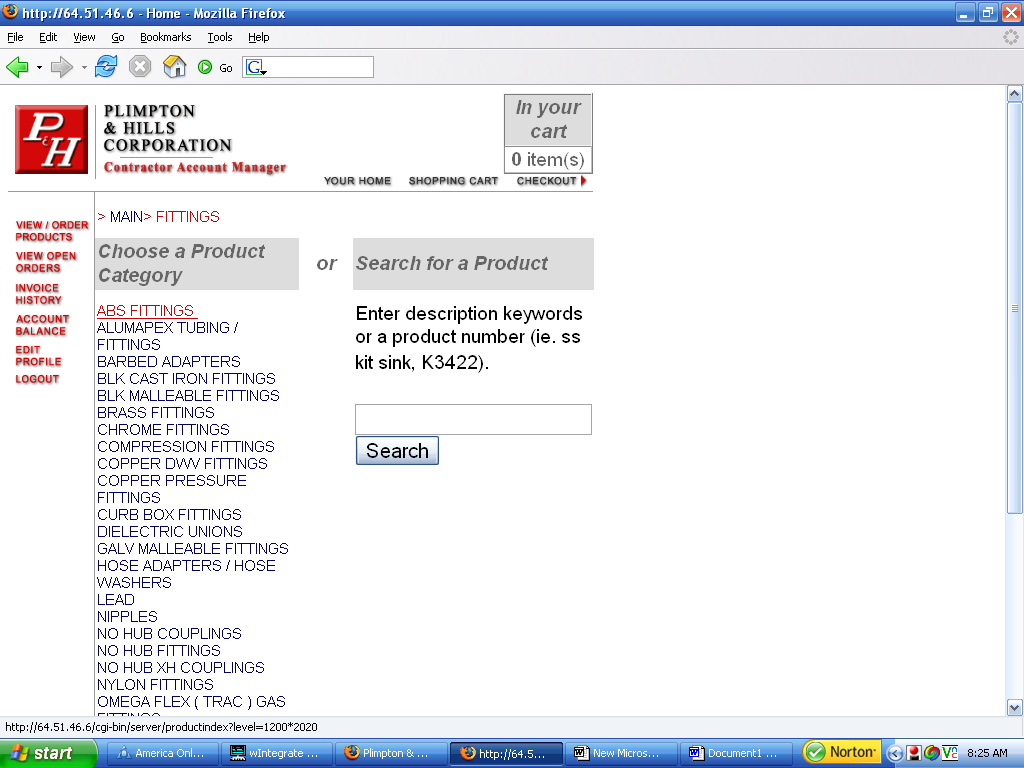 after the user selects abs fittings a breakdown of abs fittings is displayed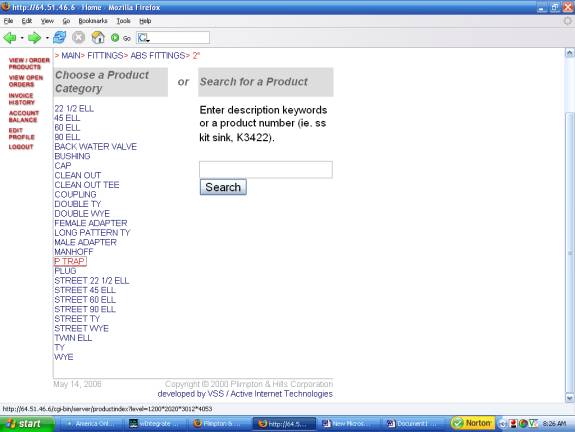 after the user selects p traps, since there is no further path, the actual items are displayed.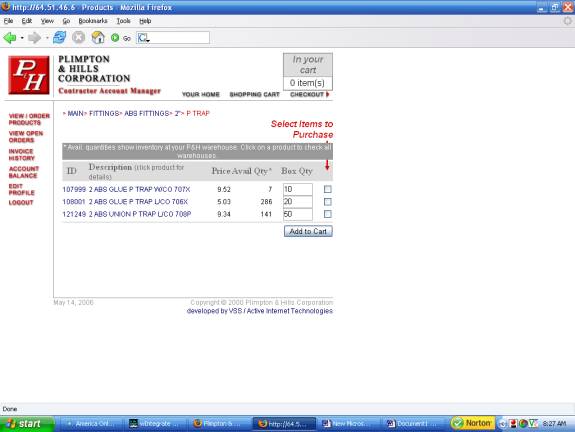 WEB USER SETUP:

THIS SETUP DETERMINES WHICH CUSTOMER THE WEB USER IT TIED TO AND WHETHER THAT IS A BILLTO SHIPTO OR MASTER BILLTO CUSTOMER. THIS ALSO DETERMINES WHETHER THIS USER CAN SEE PRICES AND QUANTITY ON HAND, WHETHER HE IS RESTRICTED TO BUYING CERTAIN ITEMS, WHETHER HE CAN APPROVE AN ORDER OR SIMPLY BUY IT "ON APPROVAL"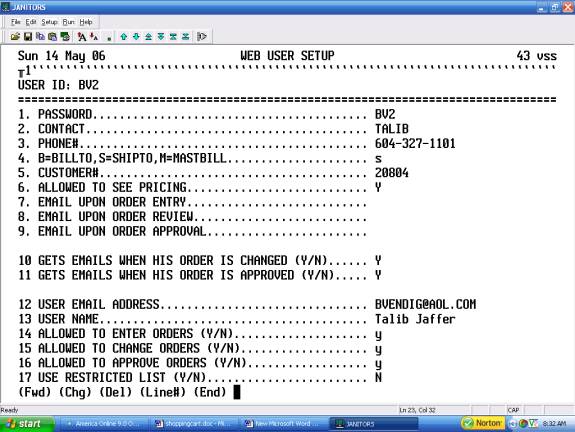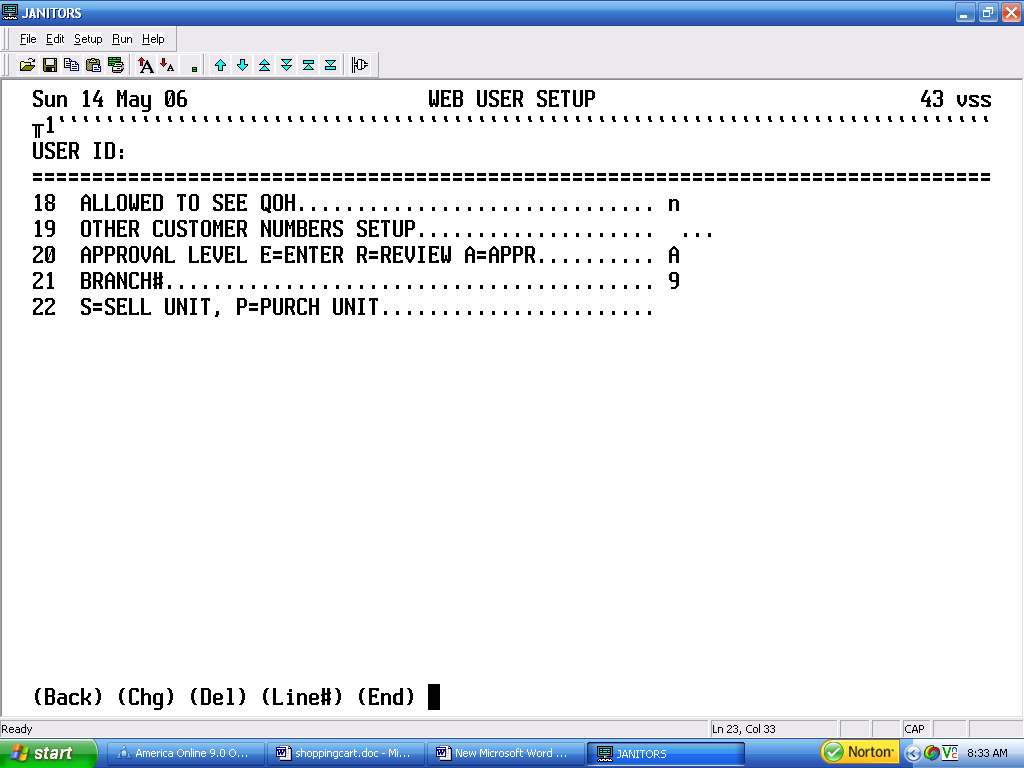 subscreen for email addresses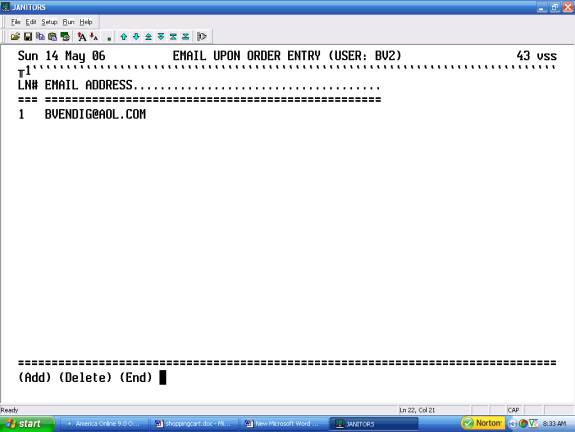 WHICH ITEMS CAN THIS USER PURCHASE:
SOME USERS CAN BE RESTRICTED TO SPECIFIC ITEMS.
selected lists can be manually maintained or may be automatically gathered from contract or quoted items or items bought in the last 12 months
billed invoices can be recreated into the current shopping cart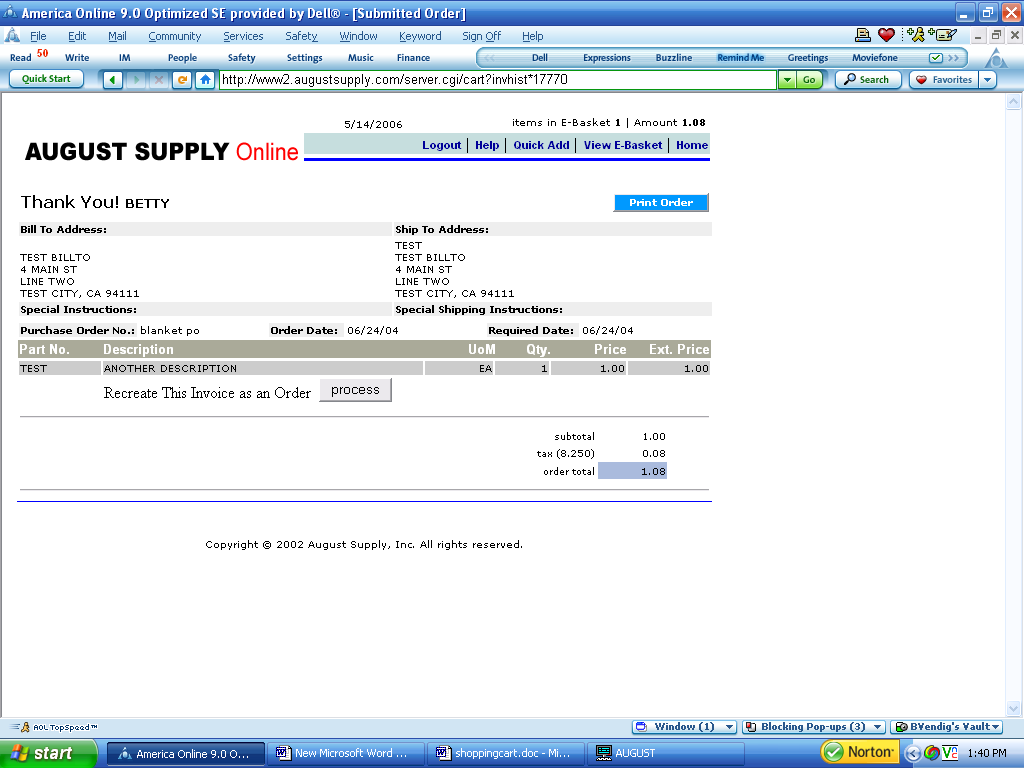 SHOPPING CARTS CAN BE NAMED AND SAVED FOR FUTURE USE: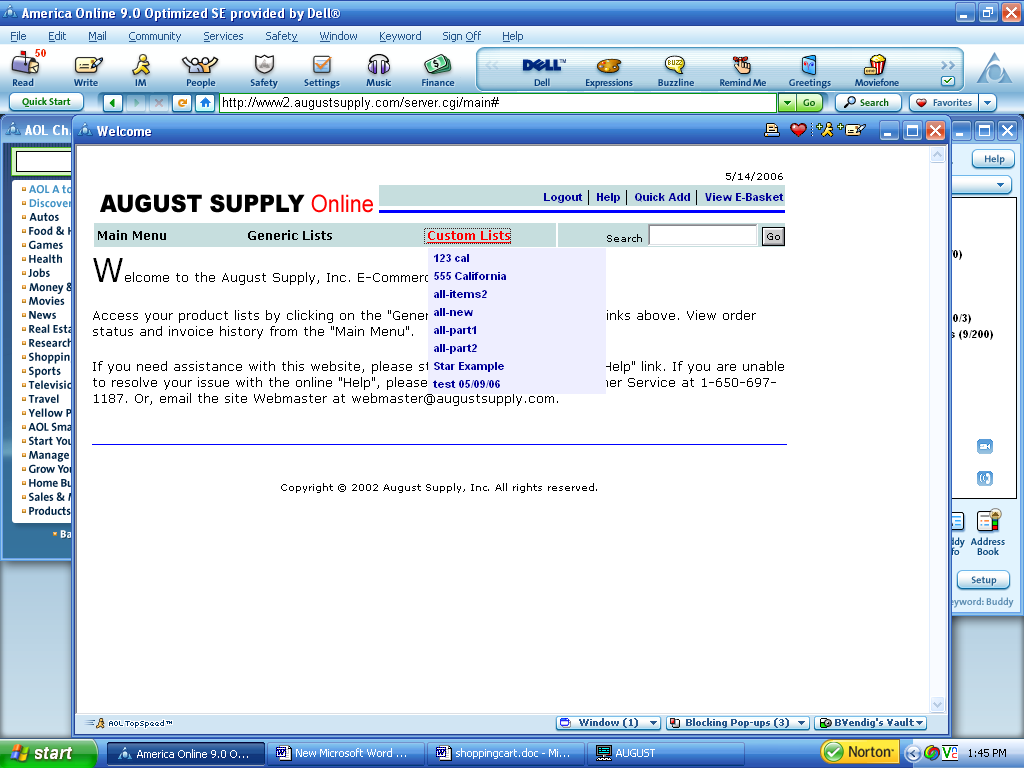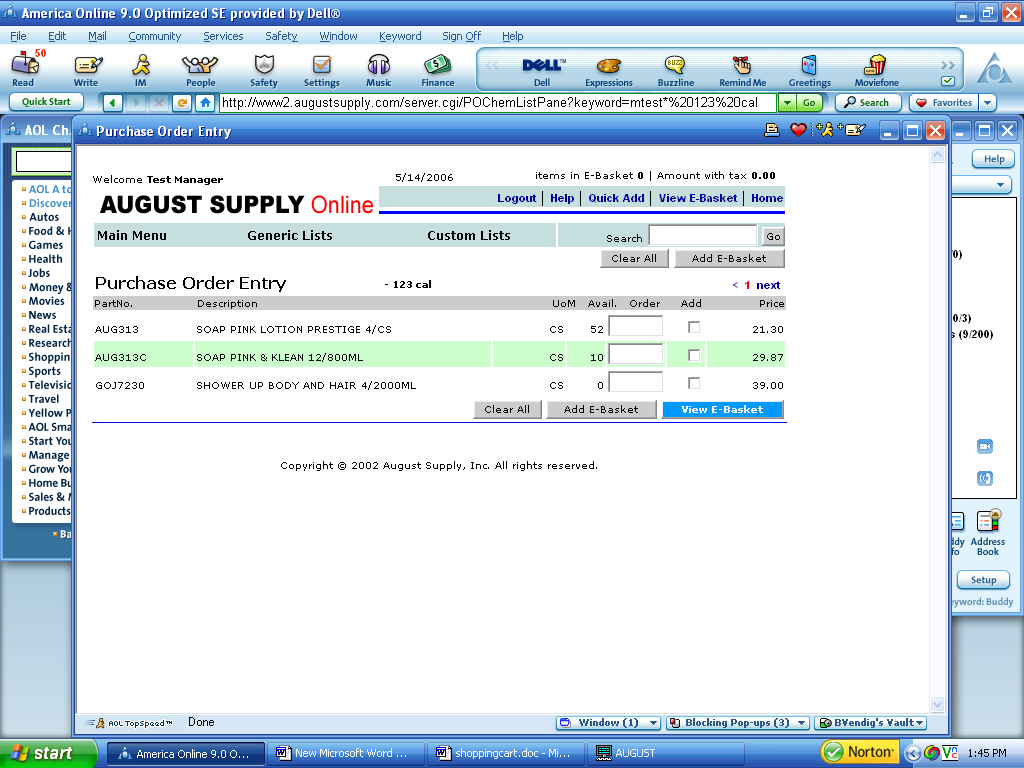 SELECTING THE SHIPTO SITE: if a web user is a "billto" web user then he may order product for any of his related 'shipto" customers.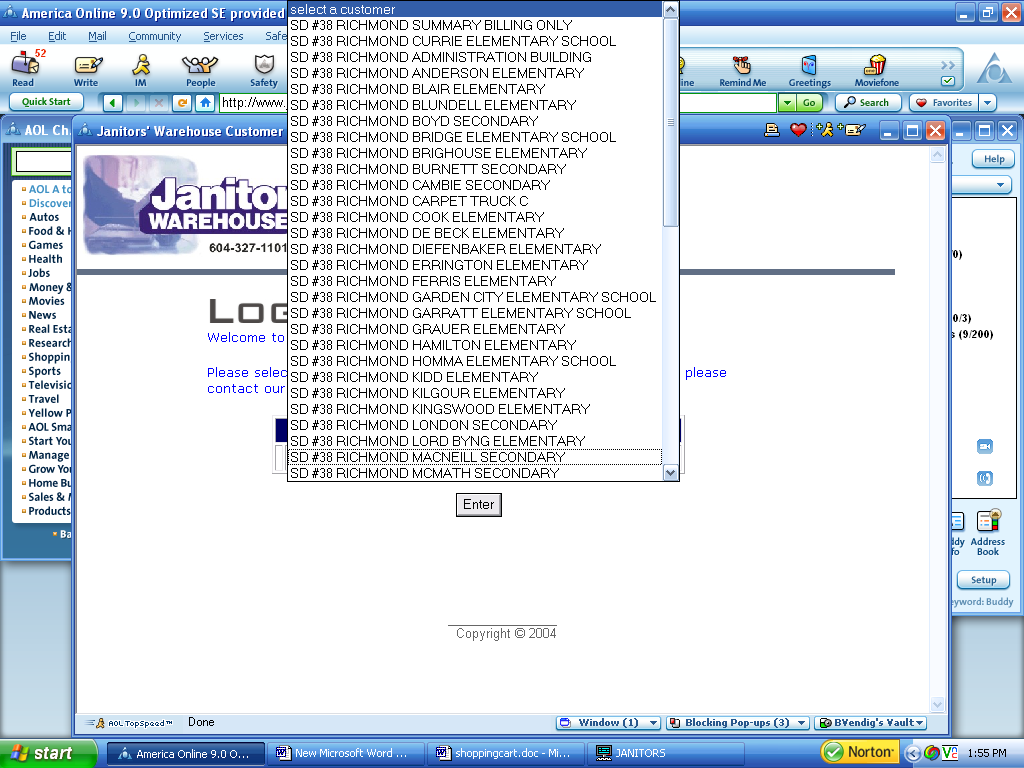 MULTIPLE SHOPPING CARTS:
IF A WEB-USER IS TIED TO MULTIPLE SHIPTO SITES, THEN HE CAN SELECT PRODUCT FOR ONE SHOPPING CART, THEN SUSPEND IT AND PURCHASE PRODUCT FOR A DIFFERENT SHIP TO.