VENDIG SOFTWARE SERVICES, INC
INTERFACING TO UPS:
PURPOSE:
THIS SET OF PROGRAMS ALLOWS FOR THE INFORMATION TO AUTOMATICALLY FLOW FROM THE MARK SYSTEM TO THE UPS SERVER AND FROM THE UPS SERVER TO THE MARK SYSTEM.
AS A RESULT, WHEN ENTERING A SHIPMENT IN THE UPS PC, ONLY THE ORDER NUMBER NEEDS TO BE ENTERED, THE REST OF THE INFORMATION IS AUTOMATICALLY POPULATED.
ONCE THE UPS MACHINE EXPORTS THE TRACKING NUMBER, WEIGHT, CHARGES, ETC. THAT INFORMATION IS AUTOMATICALLY PUT INTO THE ORDER/SHIPPING FILES
FROM THE MARK SYSTEM TO THE UPS SERVER
When a UPS order is entered, information is sent to a file that is accessible to both the Mark server and the UPS server. This file contains, for each UPS order, all of the data required to enter a UPS shipment. This allows the user to type the ORDER NUMBER into the UPS screen. the rest of the information is populated with this data file.
FROM THE UPS SERVER TO THE MARK SYSTEM
THE UPS SERVER EXPORTS INFORMATION INTO A FILE THAT CONTAINS THE TRACKING NUMBER, CHARGES AND OTHER SHIPPING/TRACKING INFORMATION.
THE UPS PHANTOM (CONSTANTLY RUNNING IN THE BACKGROUND) READS THIS INFORMATION AND UPDATES IT TO THE ORDER/SHIPPING FILE.
IF DESIRED, A PER BOX UPCHARGE CAN BE ADDED TO THE UPS CHARGE. IF THE CUSTOMER HAS BEEN DESIGNATED AS "FREIGHT OVERRIDE" THEN THE TRACKING INFORMATION IS STORED IN THE RECORDS AND CAN BE DISPLAYED BUT A FREIGHT CHARGE OF 0.00 IS PASSED ALONG.
SHIPPING ACKNOWLEDGEMENT
WHEN THE ORDER IS SHIP ACKNOWLEDGED, THIS INFORMATION IS DISPLAYED AS A DEFAULT BUT IT CAN BE OVERRIDDEN.
TRACKING INFORMATION
THIS INFORMATION IS STORED IN THE ORDER/SHIPPING/INVOICE FILE AND CAN BE PRINTED ON INVOICES OR DISPLAYED.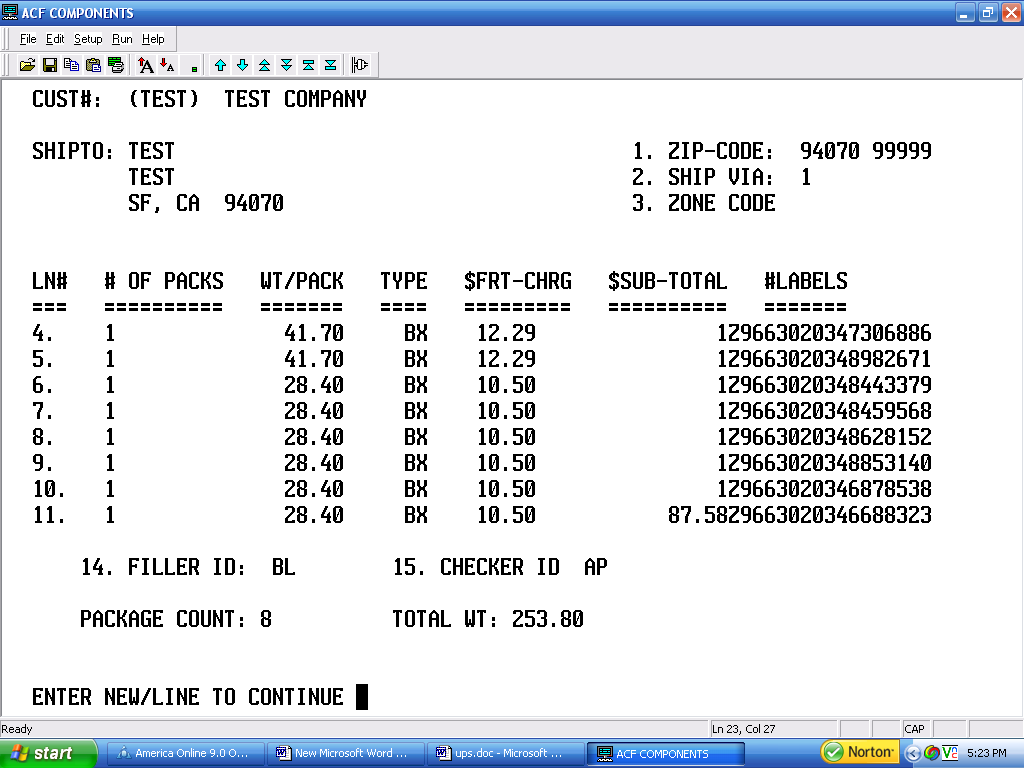 VOID ENTRIES
VOID SHIPMENTS WILL HAVE A UPS TRACKING NUMBER THAT BEGINS WITH 'VOID'.
THESE CHARGES ARE NEGATIVE AMOUNTS AND SO THEY ARE HANDLED JUST AS ANY OTHER TRACKING NUMBER BUT WITH A NEGATIVE CHARGE.